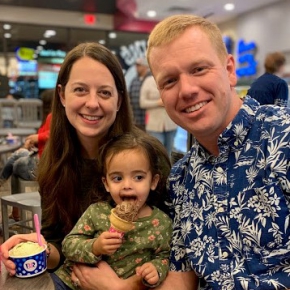 Church Planter Apprentice,
Lead Church Planter
International Family Church
As a 501(c)(3) organization, the North American Mission Board respects the intent of givers while retaining discretion over the use of all gifts. Any gifts received above the specific need will be applied where the need is greatest.
About My Family
Luke and Maudie are from Corpus Christi, Texas, and have been married since 2011. They have one daughter, Rose Mary.

Luke has experience in collegiate ministry and the real estate industry as a home inspector. He and Maudie were core team members of a multicultural church plant in Arlington, Texas, while Luke earned his Masters of Divinity at Southwestern Baptist Theological Seminary. Luke's seminary degree concentrated in North American church planting.

He and Maudie love serving the Lord together. They love helping new believers grow into healthy disciples of Jesus.
About My Church Plant
Luke and Maudie firmly believe that God has called them to start a church in Burnaby, British Columbia. They will move from Texas to Burnaby in April 2021 to start International Family Church. Burnaby is a dense postmodern and multicultural city. More than half the residents are first-generation immigrants. God is bringing the nations to Burnaby. Luke and Maudie have a vision to help fulfill the Great Commission by reaching the nations in Burnaby with the good news of Jesus Christ.

They will start International Family Church in their home and will reflect the multicultural ethnic diversity of Burnaby. International Family Church will exist to help people know and glorify God, to grow as a family of disciples and to go make more disciples. The church will show the love of Jesus through warm relationships and hospitality focused ministry.
NAMB Church Planting
Millions living in North America have not been reached with the gospel. But a new church makes change possible in an unreached neighborhood.
Send Network church planters immerse themselves in a community, learning the rhythms and culture as they establish relationships with the lost. A church plant grows out of the evangelism efforts of the planter and his core team.