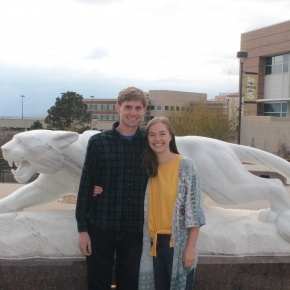 Collegiate/University Missionary
Colorado Springs Colorado
Garden Ranch Baptist Church
As a 501(c)(3) organization, the North American Mission Board respects the intent of givers while retaining discretion over the use of all gifts. Any gifts received above the specific need will be applied where the need is greatest.
About My Family
I grew up in Lafayette, Colo., and my wife, Cassie, grew up in Evergreen, Colo. We met in college at the University of Northern Colorado and got married in May 2020. This was shortly after Cassie graduated (Spring 2020), and a year before I did (Spring 2021). Cassie has a degree in elementary education, and I have a mathematics degree.

After I graduated, we moved to Colorado Springs to follow where the LORD was leading us—to full-time ministry at the University of Colorado at Colorado Springs (UCCS).

I enjoy ultimate Frisbee, disc golf and any board game someone wants to play. Cassie loves spending time with friends, being in nature and going on adventures.
About My Ministry
Cassie and I are started vocational ministry in the fall of 2021, and we still are very excited about what the LORD will do through us each and every day! We serve with Christian Challenge at UCCS, which is part of the Baptist Collegiate Network.

Challenge started at UCCS in the fall of 2008. Christian Challenge at UCCS helps students know Jesus more through Bible studies, mentoring students, and encouraging fellowship, community, and evangelism on campus.