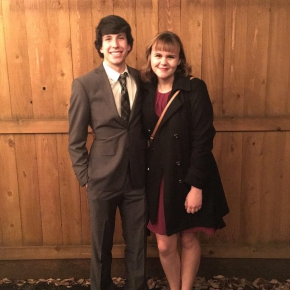 Collegiate/University Missionary
About My Family
I grew up in Chico with my parents and my older brother, Trevor. I went to Pleasant Valley High School before going to Butte College for a year and then transferring to Chico State where I finished my degree in statistics.

We have been going to Chico Community Church since before I was born, and both my parents are involved in multiple roles, from playing instruments on the worship team to leading the nursery team.

Both my parents and my brother currently work in Chico, and my brother and I will both be moving out of our house soon to different places in Chico. I will be moving in with some friends from college, which is right across the street from Chico State.
About My Ministry
Christian Challenge changed my life when I started going to it. It is a college ministry that is open to any and all students, with events ranging from small group Bible studies to large game nights and sporting events on campus.

Christian Challenge emphasizes personal relationships, which in my opinion sets it apart from other college ministries. Challenge puts a strong emphasis on one-on-one discipleship, where every student who comes to Challenge is encouraged to connect with a staff member or student leader within Challenge. This personal relationship leads to a tight-knit community as we invest in every single student who comes to an event in hopes of growing his or her relationship with Christ and teaching each one to take next steps.