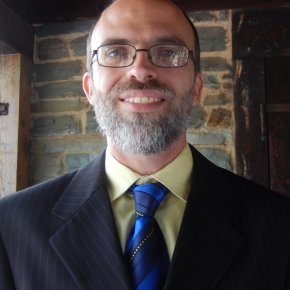 Professional Organizations Chaplaincy,
Healthcare Chaplaincy
Hoffmeyer Road Baptist Church
As a 501(c)(3) organization, the North American Mission Board respects the intent of givers while retaining discretion over the use of all gifts. Any gifts received above the specific need will be applied where the need is greatest.
About My Family
My wife, Alex, and I have been married since 2005. We met at Charleston Southern University while in college. Our first child, Claire Elizabeth, was born in 2006. Our second child, Judah Benjamin, was born in 2016. Our third child is expected in January 2019. Our family currently lives in Florence, S.C. We enjoy traveling, outdoor activities, movies and board games in our free time.

I received ordination in 2009 from a little country church out on the bayou of south Louisiana. I attended New Orleans Baptist Theological Seminary and earned my M.Div. in Biblical Studies. I completed four units of continuing professional education (CPE) through Palmetto Health System in Columbia, S.C., and also through McLeod Regional Medical Center in Florence, S.C.
About My Ministry
I have served in hospice chaplaincy since 2012. I also serve as a pulpit supply preacher for the Florence Baptist Association, and I am a member of Hoffmeyer Road Baptist Church in Florence, S.C.
SBC Chaplaincy
Chaplaincy is a "frontline" ministry that is vital to the extension of the local church. Chaplains reach the lost among the thousands of men and women in the U.S. Armed Forces, correctional facilities, healthcare settings, public safety, disaster relief sites and corporate environments. SBC Chaplains care for the broken, offer hope to the hopeless, and advance the Gospel of Jesus Christ in hard to reach places. The qualifications expected of a Southern Baptist applying for endorsement as a chaplain or counselor are established by the using agency and the Chaplains Commission, SBC. These qualification requirements vary according to the type of chaplaincy or counseling ministry involved but all are expected to meet a high level of ministerial competence. A basic qualification from the Chaplains Commission, SBC, is that an applicant is a Southern Baptist who is a member in good standing with an SBC church. Additional qualification requirements may involve certain age limits, educational background, ministry experience, physical condition, financial and credit history, citizenship eligibility for a security clearance, certification by certain national organizations, and other qualifications specific to the Using Agency or Chaplains Commission, SBC. If you are interested in pursuing next steps as an SBC endorsed chaplain from your church, explore the possibilities at Send me. For more information about SBC Chaplaincy, visit www.namb.net/chaplaincy.