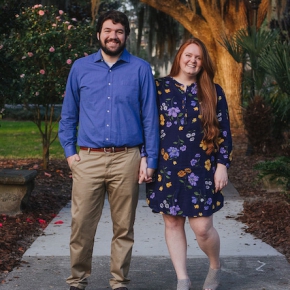 Collegiate/University Missionary
About My Family
Peter and Ashton are both Gainesville, Fla., natives. Peter graduated from the University of Florida (UF) in May 2019, and Ashton graduated in December 2019 from the nursing program at Santa Fe College (SFC).

They have been happily married since October 2019 and are excited about serving Christ together!
About My Ministry
Peter is jointly serving at Westside Baptist Church and UF and SFC Baptist Collegiate Ministries in Gainesville. His goal is to make disciple-making disciples in the collegiate environment, as well as to train students to be competent in evangelism and walking with God. His heart is to see college students mobilized to be missionaries, church planters, laypeople, pastors and student workers across the state, country and world.

Ashton is also passionate about laboring for Christ among college students and building partnerships for FOCUS International, which is a student mobilization organization.