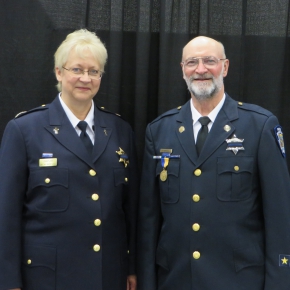 Public Safety/Community Chaplaincy,
Disaster Relief Chaplaincy,
Professional Organizations Chaplaincy
Crossroads Community Church
As a 501(c)(3) organization, the North American Mission Board respects the intent of givers while retaining discretion over the use of all gifts. Any gifts received above the specific need will be applied where the need is greatest.
About My Family
I came to faith in Christ as my Messiah in 1984, from an Orthodox Jewish background. My wife, Gwen, and I have been married for 51 years. We live in Illinois, north of Chicago and just south of the Wisconsin state border.

Gwenn is a strong Christian and was instrumental in my coming to faith in Christ. We have two children and seven grandchildren. They all live a short drive from us.

I served as an active police officer for a total of 31 years. I started serving in police chaplaincy in 1987 at my police department. My being in police work was a ministry more than a job. I retired from my police patrol duties in November of 2015, but I am still active in ministry. I love to do street evangelism.

My non-ministry hobbies are ham radio, building and repairing computers, electronics repair and fixing and inventing things (Psalm 119:1).
About My Ministry
I am an SBC-endorsed chaplain and an ordained minister. Currently, I serve as the NAMB pastoral care team's region #6 chaplain ambassador, serving Illinois, Indiana, Michigan, Ohio and West Virginia. I am also a chaplain for law enforcement, two emergency management agencies, SBC Disaster Relief and the International Conference of Police Chaplains the Illinois state representative. I am on call at hospitals.

I am the executive director of and servant to the Southern Baptist Messianic Fellowship. This fellowship has Jewish evangelism missionaries and congregations all over the world. I also serve with an SBC executive committee advisory council. I am active in my local SBC association, helping church members go on mission trips.

We started Police Shomreem Ministries in 1998, and it is a 501(c)(3). I have served in chaplaincy since 1987.
SBC Chaplaincy
Chaplaincy is a vital frontline ministry and extension of the local church. Chaplains reach the lost among the thousands of men and women in the U.S. Armed Forces, correctional facilities, healthcare settings, public safety, disaster relief sites, and corporate environments. SBC Chaplains care for the broken, offer hope to the hopeless, and advance the gospel of Jesus Christ in hard-to-reach places.
The qualifications expected of a Southern Baptist applying for endorsement as a chaplain or counselor are established by their institution and the Chaplains Commission, SBC. These qualification requirements vary according to the type of chaplaincy or counseling ministry involved but all are expected to meet a high level of ministerial competence.