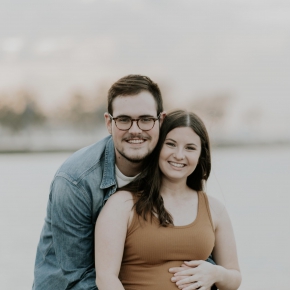 Church Planting Team Member
Greater Victoria British Columbia
As a 501(c)(3) organization, the North American Mission Board respects the intent of givers while retaining discretion over the use of all gifts. Any gifts received above the specific need will be applied where the need is greatest.
About My Family
Emma and I got married on November 20, 2020. We have been living in Folsom, La., where I have been serving at First Baptist Church of Folsom as the youth and worship pastor for the past couple of years. Before that God prepared us both for missions and church planting throughout our growing up and college years through the local church, college ministries and mission trips associated with church plants and the North American Mission Board.

Our first child, a son, will be born mid May 2022 before we head to Victoria, British Columbia, in August to serve with Canvas Church.
About My Church Plant
We will be moving to Canada in August 2022 to serve with Canvas Church where I will be the worship pastor. I will work to equip the people of God to worship and glorify God with all of their lives, and particularly as we gather as the local body. I will work to train up worship leaders throughout the church as we equip people to be sent out.

We will be working with Canvas in their church planting efforts across Vancouver Island and beyond, praying and preparing to possibly plant a church from Canvas in the coming years. We will be actively involved in the community, sharing the gospel and working to make disciples throughout the greater Victoria area.
NAMB Church Planting
Millions in North America are in desperate need of hope. Ultimately, the only hope that's going to last - in this life and the next - is the hope of the gospel. North American missionaries build relationships and share this hope in their communities and beyond.