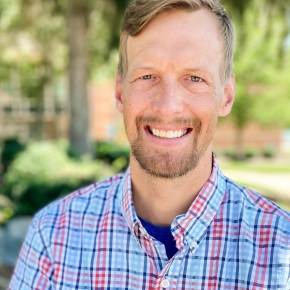 Collegiate/University Missionary
First Baptist Church of Clarion
As a 501(c)(3) organization, the North American Mission Board respects the intent of givers while retaining discretion over the use of all gifts. Any gifts received above the specific need will be applied where the need is greatest.
About My Family
I was born in the South and lived in North Carolina until moving our family to work and minister in Clarion, Pa., in 2011. My family and I work together to minister to students on and off campus at Clarion University. We attend and serve at First Baptist Church of Clarion where I lead worship and serve as an elder.

I hold a Master of Divinity degree from Southeastern Baptist Theological Seminary, Wake Forest, N.C., and a Bachelor of Arts degree in psychology from the University of North Carolina at Asheville.
About My Ministry
When I meet students, my goal is to get to know where they are in their life story. I work to identify where they are in their faith journey and am passionate about moving them to their own next step. Showing how God's grace and mercy meets us where we are helps students identify with this loving God who is there for every step of life.

Our hope is that students who filter through our ministry will draw closer to God and truly own their faith in Him by knowing why they believe what they believe and understanding how the gospel impacts every area of life. We hope to lead the next generation toward a lifelong love of the local church where they will live in community and worship and serve.