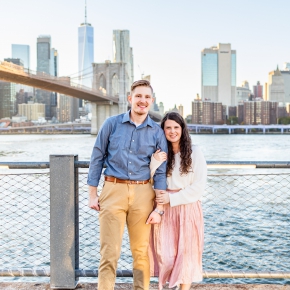 Church Planting Team Member
NYC New York,
NYC New York
As a 501(c)(3) organization, the North American Mission Board respects the intent of givers while retaining discretion over the use of all gifts. Any gifts received above the specific need will be applied where the need is greatest.
About My Family
Hi, we're the Costellos! We both grew up in central Alabama. We met during our junior year at Auburn University in Montgomery (AUM). After several years of dating, we got married in February of 2018.

While in school at AUM, we were involved in the Baptist Collegiate Ministry where God began to cultivate our hearts for missions. During college, we both had the privilege of spending summers in New York City. During these summers, along with many other short-term trips, God placed New York City on our hearts and has burdened us with the need to reach this city with the love of Christ.

If you have any questions or would like to contact us, please email/call us.

Wesley:
Email: wescostello1@gmail.com
Phone: (334) 399-1470
Birthday: May 24

Ashley:
Email: ancostello18@gmail.com
Phone: (256) 375-9550
Birthday: March 10
About My Church Plant
We will be primarily working with the North American Mission Board (NAMB) as church planting team members at Neighborhood Church Upper West Side. We will have the opportunity to fill many roles within the church plant, including discipleship, small groups, community outreach and kids/youth ministry.

Wes will also be helping the Metro New York Baptist Association (MNYBA) with various projects and ministries.
NAMB Church Planting
Millions living in North America have not been reached with the gospel. But a new church makes change possible in an unreached neighborhood.
Send Network church planters immerse themselves in a community, learning the rhythms and culture as they establish relationships with the lost. A church plant grows out of the evangelism efforts of the planter and his core team.