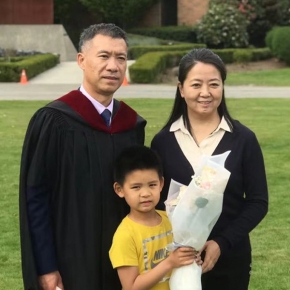 Church Planter Apprentice,
Lead Church Planter
Saskatoon Gospel Baptist Church
As a 501(c)(3) organization, the North American Mission Board respects the intent of givers while retaining discretion over the use of all gifts. Any gifts received above the specific need will be applied where the need is greatest.
About My Family
My name is Jake Zhai, and I was a musician before coming to Christ. My wife's name is Tao Wei, and she was a middle-school music teacher until 2020. My son's name is John Zhai. He was born in May 2014.

The Lord loves us and blesses our marriage and family. Our son is also a gift from God. The Lord saved us, set us apart and, because of His love, called us to participate in the work of the kingdom of God.

Thank God! The Lord is worthy for us to respond to Him by giving Him our lives, obeying Him, proclaiming Him and worshiping Him.

Because of Jesus, we also greet you, and His salvation can also be your peace and joy. And we also pray to the Lord for you and pray that He will doubly bless you. :)

Thank you for your support and help!
About My Church Plant
We have been planting a church here for 21 months, and this year we are preparing for church registration. The current consistent number in our congregation is about 50 people.

Please pray for us! The people we are currently facing are skilled immigrants and investment immigrants. We have tried student ministry and participated in school fellowships, but it has not become a major ministry.

At present, we have a team of about 15 people, but the team still needs to learn to serve.
NAMB Church Planting
Millions in North America are in desperate need of hope. Ultimately, the only hope that's going to last - in this life and the next - is the hope of the gospel. North American missionaries build relationships and share this hope in their communities and beyond.